Discover more from Ideas Beyond Borders
We are a global movement that educates and empowers courageous people to change their societies.
Over 4,000 subscribers
She Embodies Our Mission: An Interview with Razan Hamida
On the six-year anniversary of IBB, we celebrate all those who share our purpose.
Today marks the six-year anniversary of Ideas Beyond Borders, a collective story of the power of the individual. Since our founding, we have translated more than 44 million words into Arabic, Farsi, Kurdish, and Pashtu, and funded nearly 100 projects and individuals through our Innovation Hub program. Thank you to everyone who has supported our journey.
Razan Hamida is one of our most valued Bayt al-Hikma translators and an essential part of Ideas Beyond Borders. We spoke with her about her drive to bring new ideas into the Arabic world, her experience translating Jacob Mchangama's Free Speech while living in a car after the devastating earthquakes which hit Turkey and Syria, and her hopes for the future of the MENA region. Razan's story is the IBB story, doing whatever it takes to get good ideas where they are needed most.
"I have joined Bayt al-Hikma 2.0 (House of Wisdom 2.0) as a translator for about four years. Along with my fellow translators, I have worked on numerous influential books in different fields, including human rights, critical thinking and economics. Among the most controversial works was Michael Shermer's masterpiece The Mind of the Market, Timur Kuran's The Long Divergence, and Steven Pinker's Rationality. 
For as long as I can remember, I have wanted to contribute to making content available in Arabic, especially the controversial content. For that reason, I was lucky to be part of Bayt al-Hikma, which provided me with the required basics and tools in translation and built the key competencies that any would-be translator should master. Translating books for Bayt al-Hikma gives me fresh insights into human rights, critical thinking and evolution; this project has done an amazing job in making controversial content more accessible for people in the MENA region. 
Recently, I have gone through tough times after the devastating earthquake in the area. I still can't forget how my brother and I got up to flee from the shaking, collapsing building. Shivering with cold and barefoot, we spent that terrifying night under the rain on a broken bench in the nearest park to our neighborhood. I had thoughts of the most precious thing I had left at home, my laptop. When morning came, I had to come back home to see what happened to our flat and rescue my laptop. Our building had some cracks and we were afraid that it might fall down during one of the aftershocks that would follow. Therefore, I decided to move to a relatively safer place where I can calm down and think rationally until we have an expert checking the building we live in. I can't describe how difficult it is when what used to be called a home turns into a dangerous horrible place to stay in. Shocked and overwhelmed by the terrifying experience, I couldn't translate a single line while anticipating an aftershock every few hours. I had to sit in front of my laptop in a tranquil place to translate some tasks, however, I was afraid to sense any movement of the ground underneath my feet. For the first time in my life, I felt that translation is a hard job to do."
How did you become interested in translating controversial content into Arabic?
I think that my curious personality is simply part of who I am. Therefore, seeking satisfactory answers to the many thorny questions I raise is a compelling task to do on a daily basis. I used to investigate every issue that didn't seem logical to me, whether it was religious, scientific or social. However, the rarity of sources in Arabic that explore the realms I am navigating made me reach a dead end. Unsatisfied with the content available in Arabic, I moved to read some of the up-to-date articles and books in English and I thought it would be a great idea if this content could be available in Arabic for the readers in the MENA region. For that end, I was encouraged to dip my toes in the world of translation by joining Bayt al-Hikma where I have started my journey in making controversial content accessible in Arabic.
What inspired you to become a translator for Bayt al-Hikma?
Working for Bayt al-Hikma is a great chance to gain experience in the field of translation. For more than three years, I have been building upon the key competencies that any would-be translator should master. My fellow translators and I have done an amazing job in translating valuable books that spread scientific and enlightened values for the benefit of the greater community. It feels awesome to have the opportunity to make the world a better place; it gives me a natural sense of accomplishment, pride and identity. I believe that this project has played a major role in expanding our minds and providing highly rich and reliable content that Arab readers desperately need.
What has been your favorite book that you've worked on for Bayt al-Hikma and what impact did it have on you?
I have worked on numerous influential books within the past two years. However, Michael Shermer's masterpiece the Moral Arc has had a meaningful impact on me in many ways. Through the exploration of science and morality, Shermer demonstrates that science and reason have made people, and the world as a whole, more moral. He also sheds light on the role of reasoning, rationality, and skepticism as powerful tools in changing the way we perceive the world. Moreover, his optimistic point of view that we, humans, are making moral progress has given me some hope that, with the power of scientific thinking, we can develop freedom, justice and equality.
What were some of the challenges you faced when translating the controversial works you mentioned?
Given the fact that in Bayt al-Hikma we always strive to translate the latest and most influential works into Arabic, we have a very high standard of quality to aspire to. We also have to go beyond simple adequate translation and do our utmost to produce a dynamic equivalent translation. For me, the biggest pain in the neck is coming across terms that the target language or culture has no equivalent for. Hence, a process that requires creativity and the perseverance to search for the best equivalent starts. When working on Timur Kuran's The Long Divergence, for example, I had to differentiate between two terms, "company" and "corporation", though the latter, as the author's intended meaning, has no direct equivalent in Arabic.
How have the recent earthquakes continued to affect your work as a translator?
That horrible night of the earthquake, when I was escaping the shaking building in the dark, I slipped on the stairs and could hardly get up and run outdoors. Fortunately, no bones have been broken, but I still have a backache when I sit for a long time. In the aftermath of the earthquake, I didn't feel safe indoors any longer. Many aftershocks continued to happen and that horrible feeling was renewed every time. As a result, my family and I had to spend many days in an open area away from buildings. When things started to seem safer, we went back to our flat, however, I became sensitive to every loud noise I heard or sudden shake I felt. I got easily distracted whenever I sat in front of my laptop to do some translation. Eventually, it took me a lot of time and effort to relax and pull myself together. 
Can you describe the experience of returning to normality following the earthquakes?
After checking our building by an expert, and assuring that it was not damaged by the earthquakes, we were able to come back home and resume our normal life. That experience, though terrifying, has taught me how to correctly react during and after an earthquake and to always be prepared for accidents. As the German philosopher Friedrich Nietzsche said "That which does not kill us makes us stronger."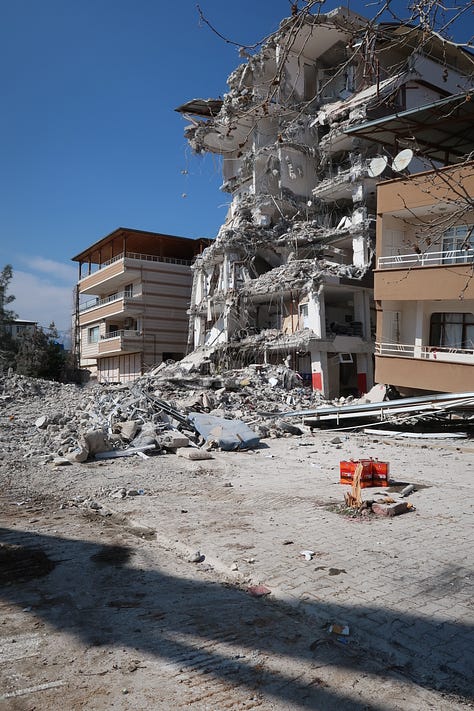 How do you see your role as a translator in the broader context of making information and knowledge more accessible to people in the MENA region?
Making fresh information available is challenging and demanding as there is always something new to learn, and I like it. In addition, what we are doing to quench the free minds' thirst for critical thinking and justice is much needed in the MENA region to allow and facilitate social, economic and political changes. As a result, we, translators in Bayt al-Hikma, always try to address the latest urgent issues to keep Arab readers aware of what is going around them.
What advice do you have for aspiring translators who are interested in working on controversial topics?
I advise those interested in working on controversial topics to read books or texts from the fields in which they hope to work. A good translation requires a translator with vast knowledge of the world. And when it comes to translating debatable content, it will be like skating on thin ice. Therefore, they have to be committed to accuracy and precision so they can convey the author's vision without any distortion.
What are your hopes for the future of IBB in the MENA region and beyond?
I hope that IBB will keep fighting misinformation and promoting the free exchange of fresh ideas for readers in the MENA region. The effort IBB has made in boosting the Arabic content on Wikipedia is more than extraordinary, and I believe that it is capable, by its creative endeavors, of bridging the gap between English and Arabic content. As IBB was no stranger to defending human rights and fighting authoritarian institutions in Afghanistan, by launching a translation program to make content available in Afghan, I think it is an appealing idea to enlarge the circle of readers and launch programs in other languages, such as Persian and Russian. By the great progress it is making, I think IBB has proven to be a real agent of positive change in the globe.
Thank you Razan, we couldn't have done it without you.
All of IBB's programs are supported by our valued donors. To receive new posts and support our work, please consider becoming a free or paid subscriber. Paid subscriptions go directly towards funding our Innovation Hub grantees.